Baikei Uehira 1964 -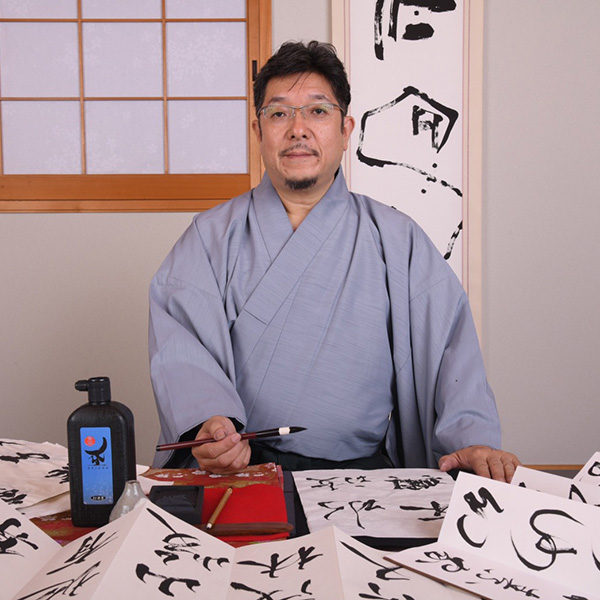 Mr. Uehira is not only an accomplished studio artist but also a live calligraphy performer and promoter of traditional Japanese culture. Though he typically adheres to the classical styles also utilized by his peers in the calligraphy world, Baikei also enjoys creating innovative works by incorporating new materials, forms, and brush styles. With more than 30 years of calligraphy instruction to his credit, he shows no signs of slowing down and vows to travel the world teaching for years to come. Baikei Uehira, born Tatsuyoshi Uehira on June 28, 1964 in Izumisano, Japan, is a master calligrapher and teacher as well as president of the Seisho Calligraphy Association in Osaka. Originally pursuing calligraphy only for the love of writing, he has gone on to develop new pathways and styles of traditional Japanese calligraphy through collaborations, art shodo, and live performances. Uehira is considered a pioneer of live calligraphy and continues to create innovative works with hopes of expanding interest in Japanese writing to others around the globe.
Early Years
At age 6, Uehira began calligraphy classes at school as do most Japanese students. Unlike most children, he loved calligraphy from day one and continued attending classes through high school. When he was 18 years old, though he disliked studying, Uehira attended a university preparatory school. During that time he often performed live as a vocalist for a rock band called 零夢 (0 Dream). Though music was one of his passions, he decided that he could not support himself with music only and began considering other options. He determined that it was time to begin serious calligraphy study and entered university. Shortly thereafter, he took the college entrance exam at a university well known for calligraphy but was rejected both the first and second years that he applied. After doing menial jobs for more than a year, including working in a café and doing construction for his father's company, Uehira became desperate. He declared to his father, "In the future I want to be able to support myself through calligraphy because physical labor is just too hard." His father replied, "Ha! I'd like to see you try supporting yourself by swinging a brush back and forth." After several days, he decided that attending professional Japanese calligraphy school in Tokyo was the only path for him. While studying Chinese and Japanese calligraphy, Japanese literature, kanji interpretation, etc.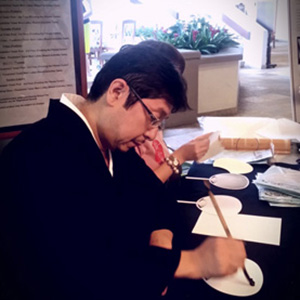 Uehira practiced hundreds of characters every day and bundled the pages in a cloth to carry them to and from school. In the meantime, he worked every day, afterward devoting his time to practicing calligraphy--often until the break of dawn. Though the young Uehira put great effort into his studies, many teachers felt his work was poor and suggested a different approach. He tried to understand his teachers' criticisms, but felt that they did not teach with enough passion and encouragement. He longed to be taken more seriously. One day he approached teacher Kyoshuu Mochizuki with his work. Mochizuki carefully reviewed each sheet of Uehira's writing, offering words of advice on each piece. The budding calligrapher was moved to tears and was motivated to amplify his efforts. Due to a somewhat mysterious heartbreak at age 22, a scarred Uehira returned to Osaka. Devastated and unmotivated, he began working at a calligraphy supply shop just to stay busy. A calligraphy teacher who was a frequent customer invited Uehira to train with him. Uehira did so for eight years at the most well-known calligraphy group in Kansai. He obtained much knowledge from this teacher and his vision became clear.
Establishment of Seisho Calligraphy Association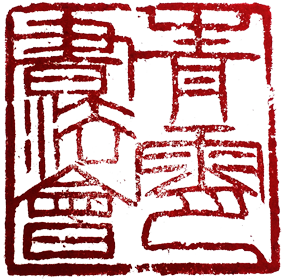 At age 29, making the most of his training, Uehira established and became president of his own calligraphy association, 青霄 (SEISHO), 'cloudless blue sky.' He has gone on to found schools in Osaka (Namba, Shinsaibashi, and Umeda) and continues to teach, perform, and lecture. Uehira currently lives with his wife (also a calligraphy teacher) and three children in the Kansai area. As of 2011, more than 2,000 students study under him. Listed below are various achievements from the last 15 years (not including exhibitions and gallery showings).
SEISHO | sei-sho.jp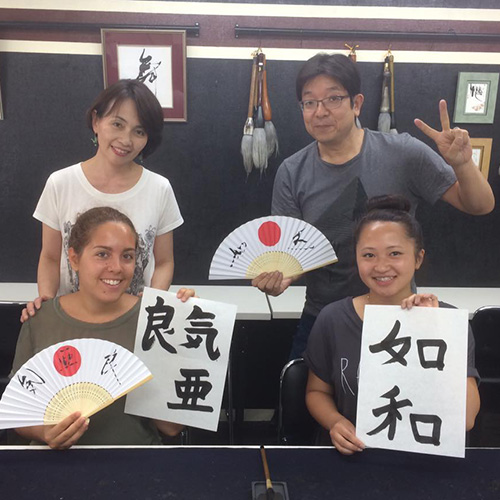 SEISHO, roughly translated as cloudless sky, is the name of the calligraphy association Baikei founded over 20 years ago in Osaka, Japan. The sky which is the empty page where the artist has the chance to express him or herself, the sky which is the unfettered mind finding tranquility when sitting to write, the sky which is the seemingly endless realm of possibilities. It is an aesthetic, and a path toward self betterment, a symbol of the boundless opportunities we all have to achieve whatever we dream.
Today the SEISHO family has more than 2,000 members practicing calligraphy. Baikei continues to offer the same passion for teaching as he did with his very first students nearly 30 years ago and continues striving to spread his vision.
Baikei Uehira (Osaka, Japan)
Career and activity in Calligraphy
2020.2 – Live performances and exhibitions in Croatia
2020.1 – KL, Malaysia University workshops
2019.7 – European tour (Italy, Spain, Belgium, Germany, and Holland)
2019.7 – Workshop at Sabadell Design College near Barcelona
2019.7 – Workshops in Roma and Bologna
2019.7 - Hotel Okura performance and workshop in Amsterdam
2019.3 - Japanese Culture Festival Performance in Hanoi, Vietnam
2018.10 - Tour around Taiwan
2018.9 - Hosted 「Wa Sho I」at National Bunraku Theater
2018.3 - Invited to a lobby event at Galaxy Okura Macao
2017.9 - A courtesy visit to Japanese Embassy in Prague : Venice Oriental Museum
2017.5 - A traditional Japanese arts collaboration event「Wa Sho I 1」at MBS Chayamachi Plaza
2017 - A TV appearance on 「Tatakae! Sports Naikaku(戦え!スポーツ内閣)」,gMBS
2016.9 - The very first performance in history at Southern Branch of the National Palace Museum in our around Taiwan tour
2016.5 - A live performance at the reception party for Tsukuba G6
2016.4 - Live performances and workshops in Taipei, Taiwan
2016.1 - Art contribution to Jiso temple, Koya mountain
2016 - A TV appearance on 「Janiben(ジャニ勉)」,KTV
2015 - Live performances with Japanese drum player Kenny Endo in Honolulu, Hawaii
2015 - Live performances on promotional video at ATC hall, Osaka
2015 - Live performances at Darvish Museum in Kobe
2015 - Live performances in Jakarta, Indonesia
2015 - Live performances in Pariaman, Indonesia
2015 - A collaboration live performance with the actor Ikuhiko Aoyama and dancer Ai Hasuda in Padan, Indonesia
2014 - A TV appearance on 「Business World Satelite」,TV TOKYO
2014- Two performances at Japan Expo in Paris, France
2014- Workshops and performances in Italy, Switzerland, and Austria
2014 - Live writing for Nikko Securities ceremony in Tokyo
2014 - Performance and workshop at Honolulu Museum of Art School in Honolulu, Hawaii
2014 - Two live shows at Waikiki Marriott Hotel in Honolulu, Hawaii
2014 - Wrote a 100 foot scroll at First Friday art event in Honolulu, Hawaii
2014 - Performance and workshop at Plaza Club in Honolulu, Hawaii
2013 - Guest appearance on Yomiuri TV "Sumatan ZIP"
2013 - USA tour to Las Vegas, Phoenix, and Los Angeles (included 2 live performances for the Japan Foundation)
2013 - Guest appearance on Hotnet Baycom TV
2012 - Appeared on "Yoidon" show, Kansai TV
2012 - Ehime Cultural Festival performance in Osaka
2012 - Calligraphy for Geidankyo Kansai Council
2012 - Performance at Swiss Hotel for Nikkei public listing celebrations
2012 - Guest appearance on Ameagari Show Club
2011 - Performance at Granvia hotel in Kyoto
2011 - Live writing at Okura Garden Hotel Shanghai
Art Calligraphy (Collaboration)
2014 - Live collaboration and exhibition with Persian/Arab calligrapher Arash Shirinbab in Oakland, USA
2014 - Collaboration with tattoo artist Richie Lucero at CoXist Studio Honolulu, Hawaii
2014 - Body art collaboration and exhibition with Chanel Tanaka in Honolulu, Hawaii
2013 - Calligraphy collaboration with Lady Gaga on Yomiuri TV's "Sukkiri" show
2013 - Shamisen/creative dance collaboration in Bangkok, Thailand
2013 - Live collaboration at world heritage Kasuga Taisha Shrine with bushido master Umeda Masami in Nara, Japan
2013 - Collaboration with Steven Raikei at Mikage Shrine in Kobe
2013 - Live show with Seizan Ichikawa for Chiayi City Cultural Festival in Taiwan
2013 - Donated works to Kobe Ginga Club magazine
2012 - Live show with Seizan Ichikawa and Steven Raikei at Suita May Theater Main Hall
2012 - Art fundraiser for Fukushima victims in Mino, Japan
2010 - Performing calligraphy for TV commercial titled Tiger Tsuchi De Taku
2010 - Teaching Hanshinsan writing for a TV commercial at 「 廣斉堂」 studio
2010 - Collaborating on a big brush calligraphy piece with Naomi Matsushima for TV show Kirakira Afro
2009 - Teaching proper calligraphy techniques to Yuuichi Wazumi of MBS's Eenaa at Uehira's Umeda studio
2009 - Teaching how to write New Year cards for a Kansai TV 「美」 (beauty) program
2008 - Writing in TV commercial for Hankyu Sanbangai
2008 - Appearance on ABC TV show Ohayou
2008 - Performing live for Kansai TV show News Anchor
2008 - Performing live for NHK TV show News Terrace
Learn Calligpraphy in Osaka
Calligraphy Courses
More info
Visa Sponsorship
Culture Visa Course
More info
ACCESS & CONTACT
NAMBA SCHOOL (Main branch)
Osaka shi Chuo ku Namba 3-5-11 Toa bld 6F
06-4396-9656
info@baikei.org