Calligraphy Courses
1 Year Course
Culture Visa Sponsorship Course
INTRODUCTION : Our 1 year Japanese calligraphy course is geared towards serious students who wish to live / study in Japan and require visa sponsorship.
*Students must provide proper paperwork for the visa and send to us. Though our success rate is currently 100%, visas are not guaranteed.


We accept students year-round.
Courses are taught in a group setting and class sizes vary.
School holiday schedule basically follows Japan's national holiday schedule.
National health insurance is to be paid by students.
Students are legally required to study a minimum of 4 days each week and are not allowed to work.
We do not officially offer support for housing, transport, etc. but try to advise our students as best we can.
Students are encouraged to participate in school parties, exhibitions, and other activities.

*For those who do not require a visa please refer to our Standard Course page.
Course Description
Most of our foreign students have little or no experience with Japanese calligraphy, so this course has been designed with that in mind. For those who have studied in the past, adjustments can be made to suit their abilities.
Months 1-3
Students will focus on the fundamentals:
Brush technique, stroke order, character balance, Hiragana, Katakana, and basic block form.
Months 4-6
Progresses to more difficult characters and students begin to learn about Japanese writing history.
Small brush use and seal carving will also be introduced during this time.
Months 7-9
Continue with small and standard size brush practice.
Students also begin large brush practice and start creating their own art works.
Months 10-12
Include writing practice, seal carving, extra-large brush practice, modern art calligraphy, and introductions to various writing styles.
* Small tests will be given every 3 months.
* Upon completion of the course, students are awarded with Certificate of Completion.
Study Materials Provided:
Handbooks with English instructions
Small and large starter brushes
Standard calligraphy paper
Paper weight
Ink stone
Felt pad
India ink
Tuition
1st Year Tuition
The first 6 months of the 1 year course is ¥155,520, which includes the cultural visa and starting materials. The full 6 months amount is to be paid via bank deposit before applying for the visa, along with a ¥30,000 nonrefundable application fee. If the visa is unable to be attained, the full ¥155,520 will be refunded.

The second 6 months of the course is ¥155,520 and must be paid halfway though the school year for the second semester.
| | |
| --- | --- |
| Nonrefundable application fee | ¥30,000 |
| First 6 months tuition | ¥155,520 |
| Second 6 months tuition | ¥155,520 |
| TOTAL | ¥341,040 |
2nd Year Tuition
Students who complete the full year with good attendance are eligible for a visa renewal and only pay a ¥155,520 yen yearly class fee.
| | |
| --- | --- |
| Nonrefundable application fee | ¥30,000 |
| Class fee : 1 year course | ¥155,520 |
| TOTAL | ¥185,520 |
Please feel free to call or mail us with any questions you may have.
1 Day Course
INTRODUCTION : As you know, calligraphy is an important part of traditional Japanese culture. If you are in Osaka, why not come in for a crash course in Japanese brush writing? You won't forget this wonderful opportunity!
*If you would like to study from home, please have a look at our Online Course.
What You Will Learn
How to hold the brush
Stroke order of Chinese characters
Brush stroke techniques
Various line styles

Here are some samples of what you will practice writing. Included are all supplies which you can keep.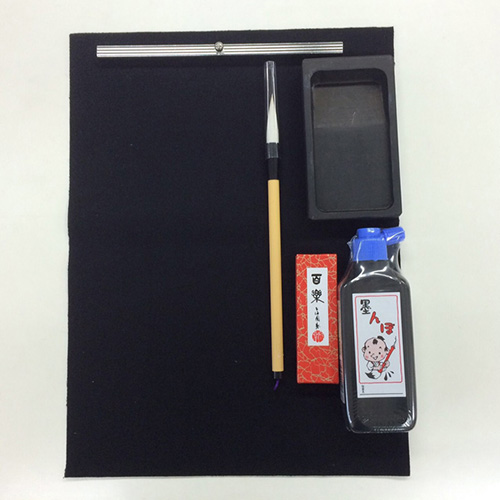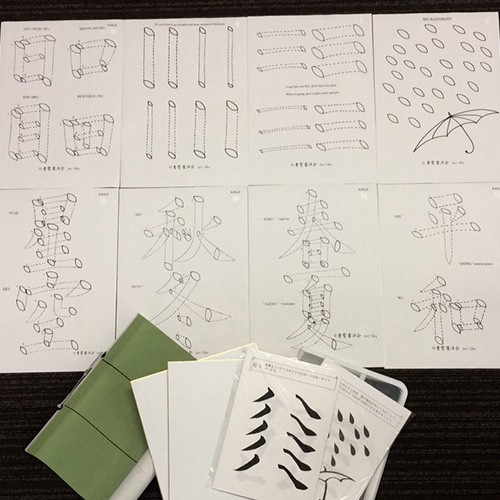 Tuition
¥10,000 (tax included)
The set includes all worksheets, paper, brushes, and ink.
And as a bonus we also include a hanging scroll on which to hang your work at the end of the course.
Supplies alone are valued at ¥5,000. It's a great deal!
Basic Course
INTRODUCTION : Our basic course offers students the chance to study and progress at their own pace. You can practice ball pen, small brush, or medium brush at any of our locations. And if you are interested in adding an extra discipline, you can do so for a 540 yen (円) fee. Please feel free to drop by the school, or contact us via phone or email.


Free starter set (brush, ink, paper, inkstone, felt, paperweight) for brush study
Free worksheets included for ball pen study
SEISHO's monthly workbook included at no cost
4 lessons (120 minutes) ¥7,130
8 lessons (120 minutes) ¥13,610
Option to study additional styles + ¥540
All 3 convenient locations


Class Details
All prices are tax included
Our teachers are highly skilled and certified
We accept students year-round
Direct bank deposit available
Courses are taught in a group setting and class sizes vary
School holiday schedule basically follows Japan's national holiday schedule
Inkstones, felt pads, and paperweights are available for free if you forget to bring your own


Trial Course
This trial course is for those who aren't sure what style of calligraphy they want to practice. Students can practice ball pen (4 lessons), small brush (4 lessons), and medium brush (2 lessons) all for just ¥10,000. We give you everything you need to get started, including paper, ink and 2 brushes. Don't miss this excellent chance to try Japanese calligraphy.

10 lessons for only ¥10,000 (tax included)
Free starter set (2 brushes, inkstone, felt pad, ink, paperweight)
SEISHO's very own worksheets included at no cost
No joining fee (¥3,240)
Each class is 90 minutes
All 3 convenient locations


Big Brush and Art Calligraphy
For those of you interested in having a chance to try big brush calligraphy please call or send us an email and ask about the weekend classes we have available. Because of their irregular schedule, we have decided to accept students on a reservation only basis. There's nothing quite like the feeling of throwing ink around with a giant brush! Have a look at some of Baikei's performance photos to get an idea of just how fun it is.
Seal Carving Course
INTRODUCTION : A carved seal is an integral part of every calligrapher's final work. This ancient art was developed in China and brought to Japan long ago. Since early times, calligraphers have put great importance on their seals. A well carved piece is more than a mere signature; it is voice which adds color to one's work, both literally and figuratively.

In this course you will learn how to design, prepare, and carve stones of various sizes, as well as how and where to properly stamp your works. Much like the process of writing, carving is also a wonderful meditative experience. Come give it a try, and make a work of art for yourself or a loved one.

This hands-on short course is available by appointment only. To set up a time that best suits you, please give us a call or send an email. And for those unable to physically attend, we have a distance learning option available on our online course page (all required tools are available at our online store).

All supplies included in class fee
Learn the basics of stone seal carving from a professional
Private class ¥10,000 (3 lessons/90 minutes each)
Group of two people ¥9,000 per person (3 lessons/90 minutes each)
Group of three people ¥8,000 per person (3 lessons/90 minutes each)
Convenient Namba location
Stone carving knives are very sharp so we always remind students to be careful and to take their time.


Teacher Training Course
INTRODUCTION : We offer teaching certification to students serious about wanting to teach others and help continue the beautiful tradition of Japanese calligraphy. Beginning, intermediate, and advanced courses are available and can all be started at anytime throughout the year at both our Osaka school and online school.

Upon completion you will have a solid knowledge the Japanese writing system, be competent writing in various styles, and know how to accurately correct students' work. Though some students wish to specialize in a particular type of writing, i.e. ball pen, small brush, big brush, etc. we encourage our training teachers to have a good grasp of all basic forms.
| | | |
| --- | --- | --- |
| Courses | Hours | Prices |
| Kids Teacher | 48 hours | ¥96,000 |
| Adult Teacher | 36 hours x 3 | ¥54,000 x 3 |
Learn Calligpraphy in Osaka
Calligraphy Courses
More info
Visa Sponsorship
Culture Visa Course
More info
ACCESS & CONTACT
NAMBA SCHOOL (Main branch)
Osaka shi Chuo ku Namba 3-5-11 Toa bld 6F
06-4396-9656
info@baikei.org